THE ENGLISH CIRCLE CONDUCTS BOOK DONATION ACTIVITY
Submitted by

CED

on Wed, 08/15/2018 - 16:32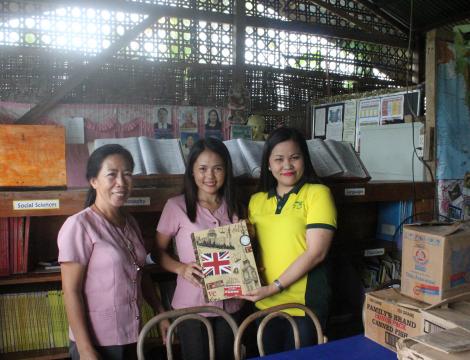 The English Circle conducts book donation activity
Photo Caption: The turn-over of the books donated to the beneficiary school by Ms Ivy N. Macagba, The English Circle Moderator (Right) to Ma'am Rosemarie C. Atolan, Katalicanan HS Teacher-in-charge (Left) and Ma'am Frietchzel Love C. Beldia, Katalicanan HS Librarian (Center).
A total of 350 books and educational magazines were collected and donated by selected NDMC Faculty and students for the high school students of Katalicanan High School- Cawilihan Extension at Aleosan, Cotabato on January 22. Katalicanan HS, has approximately 150 students from Grade 7- 10 and four (4) teachers namely, Ma'am Rosemarie C. Atolan, the school's teacher-in-charge, Ma'am Edelyn M. Antecristo, Ma'am Frietchzel Love C. Beldia and Ma'am Delia C. Tadiaque.
The activity was part of the sustainable initiative of The English Circle Organization. The aim of this undertaking is to promote education and the culture of reading among the students by providing them legitimate sources of knowledge and entertainment. The book donation drive also helped instil a sense of volunteerism and social cohesion on the part of the donors, thereby promoting important values and social connection.