NDMC JOINS 6TH NATIONAL CRIMINOLOGY STUDENTS CONGRESS
Submitted by

nd-admin

on Wed, 10/09/2019 - 11:38
Notre Dame of Midsayap College joined the 6th National Criminology Students Congress held at De La Salle University,Dasmarinas,Cavite with the theme "Shaping The Philippine Criminology Profession,Our Mission,Our Obligation last September 18-21,2019 with the partnership of Study Review Center and Seminars Inc, Express Order System Inc., Wiseman Books Trading, Cast Review Center, The Royal Pentagon Review Specialists, Inc., Rex Bookstore, Throb Pro Lights and Sounds, Ovaldesk Inc, Gear 1 Driving School, Aster Training and Development, La Visionario Security Training Institute Inc, Forefront Book Co, Inc, EDC Training, Academy Inc., CTP Review Center, Naps CEA Jewelry and Metal Craft, Dr. Richard V. Alcantara, Dr. Jonie T. Mamigo, Alexa Travel and Tours Inc, CD International Inc, Stronghold Review Center, Tinoley Digital Photography, DLSDAAI, POLCA, and CCJE Student Government.
The participants were 48 competing schools. NDMC College of Criminal Justice Education sent 13 participants including 2 coaches, Ms. Melvie F. Bayog, MScrim and Ms. Evelyn Albrando, MSCrim. This congress paves in molding aspiring students to be more efficient,effective,and competent in their chosen field. These were the following students and their specific task during the said congress: M16 Assemble and Disassemble: Bryan Arradaza, Rasid Kansa, Joyce Cathleen Mae Gutierrez and Joemar Estrada Debate (Quarter Finals Finalist) Honeylyn Zerrudo ,Hamel Niala, Justine Anne Asejo and Abdul Camid Derico Research Paper Presentation: Art Ramos Oration/Essay Writing: Mariel Jaine Candidier Extemporaneous Speaking Honeylyn Zerrudo Quiz Bee: Art Ramos and Lady Stephanie De La Cruz Search for Ambassador /Ambassadress: Joyce Cathleen Mae Gutierrez (2nd runner up) Joemar Estrada
This is in response to the misconception that Criminology course is just a stepping stone to become law enforcer or soldiers and a preparatory course to become a policeman where in fact Criminology course is now enhancing through the advent of technologies, the presence of equipped Criminology educators, vitality of research, significance of feedback mechanism and most of all, the contribution of the students on how they are going to hone and shape themselves into a more dignified and sophisticated Criminology Professionals considering that learning is a personal thing.
During the declaration of winners and closing program, NDMC-CCJE did not make it to be part of top 3 in every category except for the representative for Ms. Ambassadress which crowned as 2nd runner up and titled Ms. LEAD represented by Ms. Cathleen Mae Gutierrez. But joining the congress generates a realization that still NDMC-CCJE was not a mess nor a failure knowingly that they did their best during the competition. Rather they were a work in progress. Never compare the journey with anyone else as there is a different one to take. There might some delays in the journey but this strongly needs to keep believing in one's abilities as it could lead them into a victorious journey if only one keeps going. The memories created in the 6th National Criminology Students Congress was indelible. It taught lessons that was a helping mechanism tool along the journey. They were able to perform transcendence. This is the ability to surpass the limits. It just need a push to oneself beyond limits to open new opportunities. These bring about a big change in one's lives.Indeed,Shaping Criminology Profession is the mission and obligation.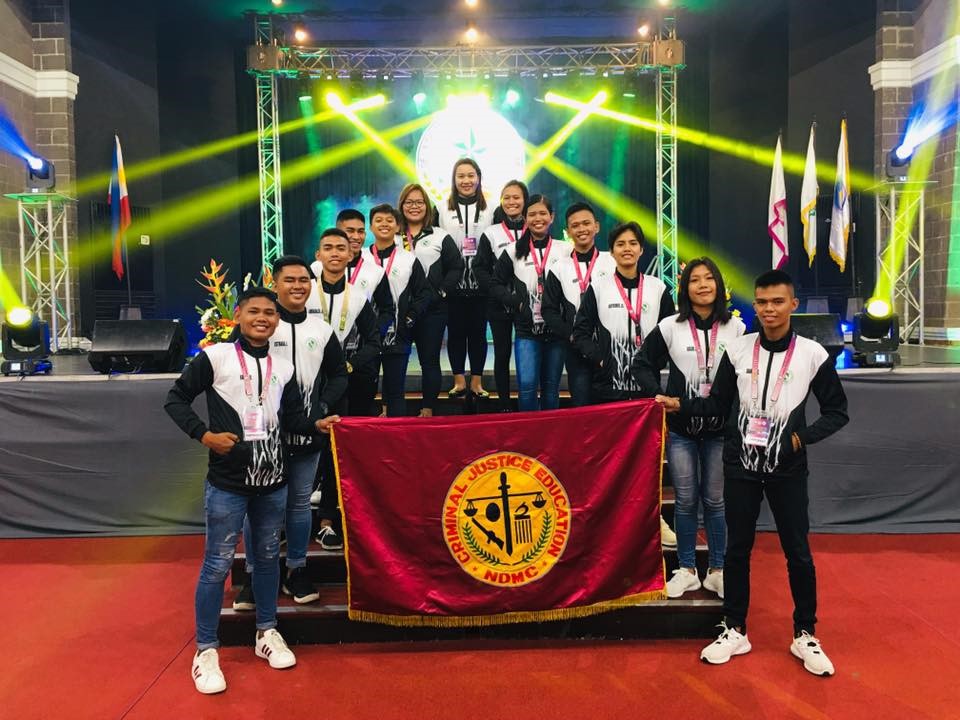 The Criminology Congress Experience
They say every picture tells a story. Indeed, these pictures are not mere images but rather a representation and a depiction of a genuine relationship of what we call as family. A family who has fought together to prove that our profession is not a mediocre in talent and skills. We are well-rounded individuals who are inclined to perform any task whether mental or physical activities. A month ago, we have been given the opportunity to represent our school in the 6th National Schools Criminology Congress to be held at Dasmariñas, Cavite on September 18-20, 2019. Though shocked and reluctant, we still have accepted the challenge thinking that this event is a privilege. Time flew so fast that the calendar changed its month already and we still have made minimal progress. This little span of time left have made us, especially me, doubt my own capabilities thinking that I would not be able to make it especially that I am inexperienced in my contest activities. The presence of self-doubt and fear that I might not be able to make it hinder the progress and the preparations that I must complete in order to be prepared with our events. This had even led to numerous withdrawal with the commitment that in the end held back the process of improvement. Despite self-doubt and fear of disappointment from other people, we made up our minds and the stability to still work under pressure. As what our seniors always say, it is "mind over body" and it is also the huge opportunity that we must grab not just for us to represent our school but also for us to grow as individual and as a student in terms of building our self-confidence, self-trust, and most importantly our self-reliance. We have completely accepted the challenge as we flew to Manila on September 17, 2019, one day earlier, and contended on the next day with the different universities and colleges that were undeniably competent and prepared. There were various activities in the Congress involving essay writing contest, extemporaneous speech contest, research presentation, debate, oratorical speech contest, quiz bee contest, M16 disassembly and assembly, and of course the Mr. Ambassador and Ms. Ambassadress 2019 where Ms. Joyce Cathleen Gutierrez bagged 2nd runner up among 18 contenders. We may not be able to excel in all those areas but we have learned something for sure. Though winning is the primary goal of all schools in every contest, what matters the most is the unforgettable experiences that we have gained, the active participation that we have made, and the strong and deep collaboration and support that we have felt from each other. For all of us who have felt all the love and support from our dean, Ms. Melvie Bayog, MSCrim and of our teacher Ms. Evelyn Albrando, MSCrim. It is already more than the trophies and medals that other schools had received for nothing more is precious than the encouragement, opportunity, enjoyment, laughter, and knowledge that they untiringly gave to us before, during, and after the Congress. And since this year's Congress theme is, "Shaping the Criminology Profession: Our Mission, Our Obligation," it is also our mission and obligation to prove to everyone that we are not mediocre in talent and skills through supporting and involving still ourselves to these academic and non-academic activities imposed by the National Congress in order for us to eradicate the public's narrow comprehension about our profession. By constantly joining to this congress, we can then improve and train ourselves not just to become nationally competent criminology students of our schools, but of global competence.