The President
Domingo installed as new NDMC President
---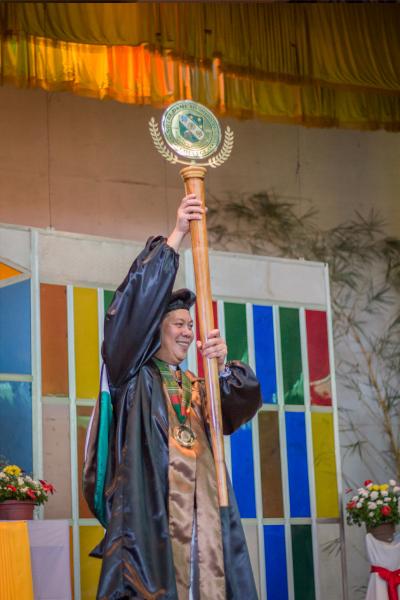 The NDMC Board of Trustees named Fr. Jonathan Rodriguez Domingo, OMI as NDMC's 11th school president. The installation rites happened on June 21, 2017 at Bulwagang Genoveva Deles- Jaranilla. It was preceded by the Holy Spirit mass at 8:30 A.M., an NDMC tradition of holding a Eucharistic Celebration on the first day of the academic year, attended by the Damean community, alumni and guests. Fr. Lauro S. de Guia, OMI, Provincial Superior of the Philippine Province, was the main celebrant and homilist. He also read the appointment declaring Fr. Domingo's new position.           
He took his oath in the presence of Judge Rainera P. Osua, LLM. This was followed by his speech where he introduced the enhanced NDMC core values and called it as DARES which stands for Driven by Faith, Agile, Respect, Excellence and Service.
Fr. Jonathan was born on December 14, 1964 to Lamberto J. Domingo (deceased) and Lydia R. Domingo at Manila and he is the eldest among four siblings. On 1988, he obtained his AB Philosophy degree from the Notre Dame University. In 1993, he received his Bachelor of Sacred Theology degree from Loyola School of Theology and he was ordained into the Oblates of Mary Immaculate on April 24, 1993.
In 1994, he earned his Master in Pastoral Ministry from Ateneo de Manila University. He also attended a Communication and Media Course from Crec Avec Center, Ecully, Lyon, France in 2001.  He went on to study at W. Sycip Graduate School of Business, Asian Institute of Management (AIM) in 2007 where he completed his Master in Management.
He served as the chief executive officer of Notre Dame Broadcasting Corporation (NDBC) and the Mindanao Cross Publishers, Inc. from 2012-2017. He also became a lecturer and associate professor II for Master of Arts in Business Administration at the Notre Dame University Graduate School since 2011 and executive director of Oblate Missionary Foundation since 2007. He is a member of Kapisanan ng mga Brodkaster sa Pilipinas (KBP) (since 2012), National Commission on Culture and Arts -Executive Council (since 2010), Board of Trustees-NDU (2007-2010) and Boto Ko, Sagrado, Inc. (2015).
He conducted strategic leadership and management workshops to SMEs, NGOs/CSOs and schools and participated in conducting series of Bridging Leadership Training for Trainers Workshops to AFP Officers and Training Officers.
With his experience and achievements, Fr. Domingo will surely help propel the NDMC community to reach greater heights of providing "quality, relevant and liberating education."