NDMC History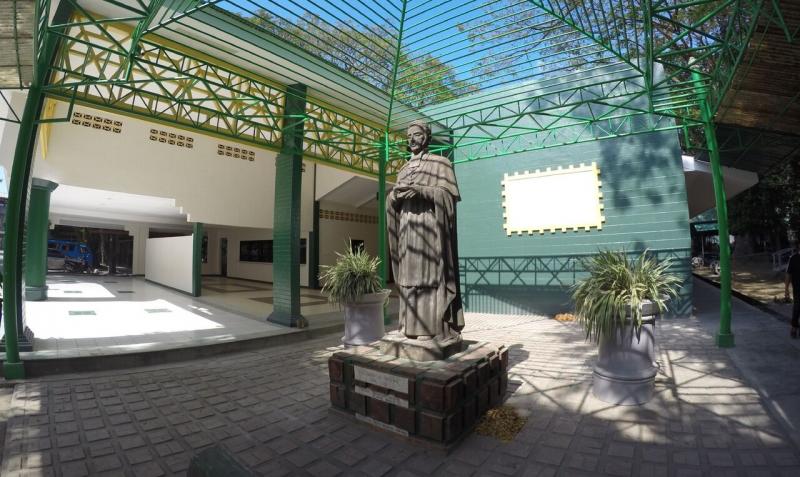 When the Missionary Fathers came to Mindanao in 1939, they were confronted with the predicament on how to reach out to the people to spread the word of God. After much consideration, Fr. Gerard Mongeau, OMI and his Oblate brothers thought that the best way to reach as many people as possible was through the establishment of schools. They therefore decided to open the first high school in Midsayap because the system of highways at that time made Midsayap the crossroads of the province. The experiment was at the same time intended to test the reaction of the people to the idea of a Catholic school.
Since the Philippines and Oblate congregation are both dedicated to our Lady, it was natural that the school should be placed under Her protection. It was Fr. Joseph Boyd, OMI who suggested the name NOTRE DAME. Hence, in July 1941, the NOTRE DAME ACADEMY in Midsayap opened its doors. It was the first link in the long chain of the NOTRE DAME schools which today numbered 194 and from the Notre Dame Educational Association.
Fr. Edward Gordon, OMI was appointed the first Director and Mother Ma. Isabel Purification, RVM was the first principal. The school opened two first year and two second year sections in a four-room building made of wood, sawali and bamboo. Fr. Gil Beaudoin, OMI, Mrs. Rosario Medina and Mrs. Milagros Penson completed the teaching staff. The outbreak of World War II on December 8, 1941 put an end to this project.
The Oblate Fathers, being Americans, were placed in internment in various places. Those in Santo Tomas talked about the Oblate commitment to education. The opinion prevailed that the Oblate should not expand into education, for it was felt that parochial work was more important and fulfilled the purpose for which the Oblate came to the Philippines. They agreed to re-open only the Notre Dame Academy in Midsayap since it was already started. Later events showed that the people of Cotabato thought otherwise.
Notre Dame Academy was reopened in 1946 with Father Robert Sullivan, OMI as Director and Mother Belen Tolentino, RVM as the principal. There were 302 first and second year high school students. In 1960, it was renamed Notre Dame of Midsayap College and has the distinction of being the first Notre Dame School in the Philippines. It continued to grow and succeeding Notre Dame Schools were established in the neighboring areas of Pikit, Pigcawayan, Libungan, Edcor (Alamada) and extending throughout the Philippine archipelago.
A big leap forward was taken on June 13, 1960 with the opening of the collegiate department with Father Charles Prass, OMI, as the first Rector. On June 11, 1961, the Elementary Training Department started operation as the laboratory school of the college. Another milestone was the offering of Night High School on July 1, 1961 to serve those who work during the day. This was the contribution of OMI Fathers Thomas Lenert and Ernest Sylvester. In 1966-1967, the Notre Dame High School for Girls was turned over to the RVM Sisters.
The growth of the college unit significantly increased from the two (2) initial program offerings of Bachelor of Arts (AB) and Bachelor of Science in Elementary Education (BSEED) to the current program offerings, namely:
Bachelor of Arts (major in Community Extension, Economics)
Bachelor of Elementary Education
Bachelor of Elementary Education major in Pre-School Education
BS in Secondary Education (major in English, Mathematics, Biological Science, Social Studies, Filipino, MAPEH and TLE)
Bachelor of Technical Teacher Education (major in Food Servicing Management, Automotive, Electrical Technology)
BS in Business Administration (major in Financial Management, Marketing Management)
BS in Accountancy
BS in Accounting Technology
BS in Entrepreneurship
BS in Hotel and Restaurant Management
BS in Computer Science
BS in Information Systems
BS in Information Technology
BS in Computer Engineering
BS in Electronics Engineering
BS in Nursing
BS in Criminology
BS in Forensic Science
BS Biology
BS in Social Work
BA in Communication
Bachelor of Public Administration
Bachelor of Human Services
Associate in Computer Technology
In S.Y. 2010-2011, the Graduate School was opened with the three (3) initial programs namely:
Master of Arts in Education
Master in Business Administration
Master in Public Administration
In response to the changing trends and demands of time, the Community College now the De Mazenod School of Science and Technology (DMSST) was opened in S.Y. 2001-2002 offering formal and non-formal programs registered with Technical Education Skills and Development Authority (TESDA).
The DMSST has the following programs namely:
Automotive Servicing NCII (Amended)
Consumer Electronics Servicing NCII (Amended to EPAS)
Electronics Assembly Servicing NCII
Security Services NC I & NC II
Computer Hardware Servicing NCII (Amended to CSS)
Computer System Services NCII
Cookery NCII
Food and Beverage Services NCII (Amended)
Front Office Services NCII (Amended)
Housekeeping NCII
Health Care Services NCII
Bundled Curriculum:
Tourism Hotel & Restaurant Services NC II
Hotel & Restaurant Services NC II
With the changes in the Philippine educational landscape, Notre Dame of Midsayap College implemented in School Year 2016-2017 the Integrated Basic Education and the Senior High School offering the following tracks and strands:
ACADEMIC TRACK
STEM (Science Technology, Engineering and Mathematics)
ABM (Accountancy, Business and Management)
HUMSS (Humanities and Social Sciences)
GAS (General Academic Strand)
SPORTS TRACK
TECHNICAL VOCATIONAL AND LIVELIHOOD TRACK
Industrial Arts:
Automotive Servicing
Electrical Installation and Maintenance Servicing
Consumer Electronics Servicing (Amended to EPAS)
Motorcycle and Small Engine Servicing
Information and Communication Technology:
Computer Hardware Servicing (Amended to CSS)
Home Economics & Community Development Services:
Food Processing
Restaurant Services (Cookery and Food & Beverage)
Hotel Services (Housekeeping and Front Office)
Institutional Health Care Services
Security Services
 
With the college's vision-mission of bringing the Good News to the poor, it gives emphasis on community extension and other related services. Several school and community-based extension programs have been undertaken.
On August 6, 1989, Notre Dame of Midsayap College was granted Level I accreditation by the most prestigious accrediting association, the Philippine Accrediting Association of Schools, Colleges and Universities (PAASCU) for its three programs, namely, Liberal Arts, Teacher's College and Commerce and Level II Accreditation was granted on March 25, 1996. This Level II accreditation is sustained to date. Likewise, Level I accreditation was granted for BSIT, BSCS and BSA last May 2015.
In School Year 1996-1997, the school shifted from manual to computer system of operations. Modular Training Programs were offered to personnel and external clientele. All levels were provided with Computer Laboratories to accommodate the integration of information and communication technology in all program curricula.
The College has put emphasis on activities that seek to enhance the appreciation, preservation, and enrichment of the students' Filipino heritage and to encourage the development of other potentials to enable them to do their part in the task of nation-building.
General Objectives
The Notre Dame of Midsayap College has been known for quality education, achievements, and a great deal of progress. Instructors and students are therefore expected at all times to adhere to the ideals of Notre Dame, its values, culture and traditions for the total human development and its pursuit for excellence.
Believing in an encompassing liberal and humane education, the curriculum is built around a core of Christian philosophy, theology and history and is subject to continuous up-dating and enrichment. The graduates of this institution should be truly humane and to achieve this they must possess a knowledge and appreciation of their past, a deep understanding of the present, and a sense of belonging to the world in which they live.
---
Nationalism
As a Filipino institution of higher learning, Notre Dame of Midsayap College aims to adequately meet the goals for higher education as set forth in the Constitution of the Philippines and the policies and guidelines of the Commission on Higher Education/Technical Education and Skills Development Authority. Specifically, it aims to assist the students in the development of their potentials to enable them to do their part in the task of nation-building. It emphasizes the values of self-reliance which is needed in our search for national identity.
---
Intellectual Heritage
As an institution of higher learning, Notre Dame of Midsayap College considers as her first obligation, the continuance of learning, both by handling it down and by contributing to the knowledge of persons. To this end, the College hopes to empower the minds of students and to familiarize them with the intellectual heritage of humankind.
---
Catholic Heritage
As a catholic institution, Notre Dame of Midsayap College utilizes all channels to pass on the infinite riches of the Filipino Christian culture. She does not only aim at its preservation but also tries to add to this treasure by continuous updating into matters pertaining to indigenous Christian culture. She also aims to make every Notredamean true person of Christian education who is interested in producing intellectually mature and morally guided persons.
---
Education for Liberation
The work of human development, liberation and formation of conscience are integral parts of the educative process. Thus, NDMC commits herself to this task by providing an atmosphere of adequate learning process that awakens the consciousness of the individual. Aware of their contemporary situation, students are geared towards deeper analysis of social problems to situate them in a proper perspective for actual participation in a collective action for liberation. Thus, they are expected to be effective catalysts for change.
---
Oblate Thrust
The Oblate congregation was founded by Saint Eugene de Mazenod with the prime purpose of serving the poor. Its motto: Evangelizere Pauperibus Misit, Pauperes Evangelizentur spells out this Oblate Thrust.
Among the first apostolate that Bishop de Mazenod undertook was to work among the youth of Aix in France whom he had organized and given instructions in faith. He also taught the peasants and housemaids through what we today call "non-formal" education. In doing so, Bishop de Mazenod was only carrying out the age-old tradition of the church in education. So today, the Oblate sons of de Mazenod are involved in education throughout the world, formally or informally. They are carrying out the mandate of the church "to bring the Good News of salvation to all and to blot out sin and its effects, namely: ignorance, poverty, hunger, sickness and suffering." In Cotabato and Sulu, the Oblate have developed programs aimed at expanding the capability of the Notre Dame schools in helping the alleviation of poverty. It is the primary mission of all Oblate schools to help the needy.
---
Specific Objectives
1. Training of the Mind - the school exists for the primary purpose of training the minds of the students to learn in order to develop originality, creativity, and true spirit of curiosity.
2. Moral training - the school provides training for the moral formation of the students through the good example of her faculty members, presentation of saints and heroes healthy competition, praise, constructive criticism, an observance of the rules and regulation of the College. These are inculcated through proper sense of values, guided priorities and creative response for implementations.
3. Christian Formation - opportunities are offered to students through the various campus ministry and academic programs for them to understand their roles as responsible Christians.
4. Cultural Training - the school develops students' appreciation for the Filipino cultural heritage and forms their personality by inspiring dynamic participation in cultural activities that would instill refinement of character.
5. Civic Training - the school aims to produce graduates who would take part in nation building. It seeks to develop civic spirit, critical and analytical minds especially on current social issues through active participation in various organizations and community activities.
6. Life Adjustment - the school contributes to student's holistic development to become properly oriented by guiding them as they journey through life.
7. Physical Fitness - the school provides adequate facilities and equipment for a well-balanced physical education and sports program.
8. Commitment to Community - the school commits to provide affordable and accessible quality education to deserving students in order to participate in the manpower development of the region and of the nation.
9. Economic Sufficiency - the school provides professional education, both formal and non-formal, to enable the graduates to live decent lives.