Laboratory Maintenance and Safety Training Seminar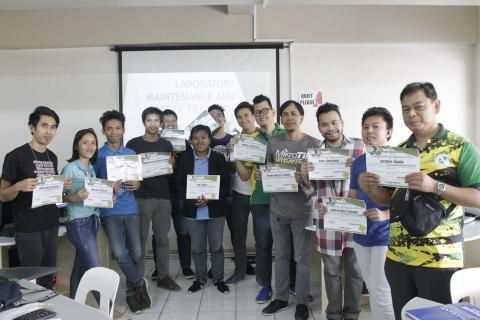 "It is better to be safe than sorry" –American Proverb
         Health and safety is the responsibility of each individual, students, teachers, non-teaching staff and working students. They must be aware of their concern in regards to health and safety. This is when they encounter emergency situations, whether they are working in the office, workshop, laboratory or lecture room.
         This is part of the Notre Dame of Midsayap College emergency preparedness efforts and emergency plans, the main goal is to help the students and staff to be safe at all times. The CITE faculty, ICTC-MIS personnel and working students attended a training-seminar in Computer Laboratory Safety and Maintenance last October 4-5, 2019 held at the RSB Building, Computer Open Laboratory.
         The resource speaker was Ms. Ann A. Britos, who emphasized about the importance of being knowledgeable in safety precaution. She highlights the basic policies and guidelines on Occupational Health and Safety Standards while working inside the laboratories such as computer, circuit, network and physics laboratory.
         She also gave lecture on the standard procedure of Basic Troubleshooting. There are many different instances that could cause a problem in the computer. No matter what is the cause and issue, in some cases, troubleshooting will always be a process of trial and error. Other problems may be easy to fix but sometimes there is a need to use different approaches before fixing and finding the solution.