NDMC commemorated the inauguration of the newly constructed Notre Dame Chapel.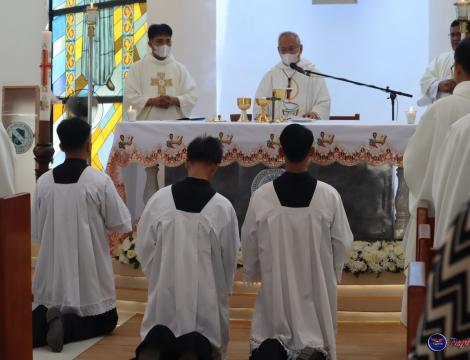 The heavens itself seemed to commemorate the serendipitous event of the blessing and cutting of the ribbon of the new Notre Dame Chapel in Notre Dame of Midsayap College last April 24, 2022. 
The event was attended by different great personalities including His Eminence Cardinal Orlando B. Quevedo, OMI, D.D., Archbishop Emeritus of the Archdiocese of Cotabato, Fr. Gerry Gamaliel de los Reyes, OMI, our Provincial Superior, Oblate Fathers and Brothers, Honorable Mayor Rolando "Rolly" C. Sacdalan, CPA, NDMC Alumni Officers, generous Benefactors and Donors, the NDMC Administrators, Faculty, Staff and the students.
The said chapel was designed by Architect Gerald Domingo Taladro, and the construction was assisted by the Marcus Construction & Supply. Furthermore, the structures and fixtures are represented by Ms. Marlyn Custodio and Ms. Janice Marie C. Damay.
The NDMC family is grateful to the NDMC Board of Trustees headed by Fr. Gerry Gamaliel de los Reyes, OMI, Provincial Superior and Chairman of the Board of the Oblate School Education System, Alumni Association Officers and Members, to the benefactors and donors who are too many to mention, and of course to the NDMC Administrators, Faculty, staff, students, and parents who gave their full support in making this plan into reality.
It was a joyous occasion that stirred the hearts of pious and filial children, as this event marks another stamp in NDMC history. Let it all remind continuing and future Notre Dameans to honor our Notre Dame.
CTTO : Regina Student Publication