NDMC Holds Voters' Education and Candidates' Forum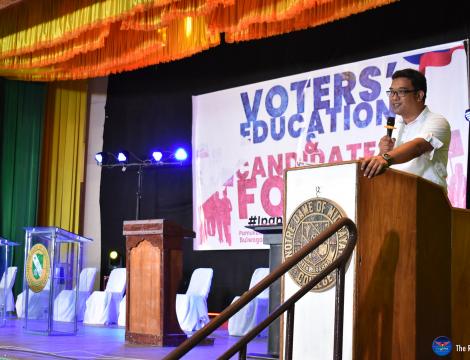 In the highly contested presidential election, one has to be critical and knowledgeable who to vote in May 9. The campaign fever in the Cotabato province and Midsayap is no different in the national level – strategy and fandom. 
With the intension of giving the Midsayapeños a head start and bases who to vote, the Office of the Vice President for Academic Affairs spearheaded Pampukaw Kamalayan: Discernment and Political Awareness. 
The two-part program - Voters' Education and Candidates' Forum were conducted on April 20-21 at the Bulwagang Genoveva Deles-Jaranilla. 
The Voters' Education was conducted in the morning of April 20. The Resource Speakers for the Voters' Education are Sr. Marie Emar, OND and Mrs. Virgie Amanon sharing their insights and wisdom in the area of political will and discernment. 
This was followed by another sharing and VCM Roadshow Demonstration by Atty. Katherine A. Maneja-Panda- Provincial Election Supervisor. 
In the afternoon of April 20 and the whole day of April 21 was the Candidates' Forum. Gubernatorial and Mayoralty candidates presented their platforms and answered the questions coming from the panel and audience. The panel members are Raquel Tarongoy-Gamallo, Sergio D. Mahinay Jr. and Lucresia M. Neri. 
Attending Gubernatorial candidates are Manuel o. Adajar, Nancy A. Catamco and Emmylou T. Mendoza. For the Mayoralty candidates: Eduard M. Delfin, Serapio T. Delos Santos, Edgar B. Ostique, Jr. and Rolando C. Sacdalan took the podium and answered the queries of the Midsayapeños.
In the morning of April 21 was the turn of the Vice Gubernatorial and Vice Mayoralty candidates to present their platforms and answer the questions of the voting public. Shirlyn D. Macasarte and Efren F. Piñol, two of the 4 running Vice Gubernatorial candidates faced the scrutiny of the panel and audience.
 Dr. Vivencio V. Deomampo, Jr. – a vice mayoralty candidate answered all the questions intended for said position. Candidates running for Board Member were also accommodated to present their platforms in 5 minutes. 
The afternoon schedule of April 21 was the opportunity for the attending 22 out of 30 Councilor candidates to present their political agenda. A round of questions from the panel and audience was raised for the candidates to answer.
Certificates of Recognition were given to the Panel members by Engr. Ronniel D. Labio, VPAA.
Signing the manifesto for clean and honest election by the candidates concluded the two-day activity.
CTTO : Regina Student Publication