NMDC Facilitated the Honoring of the Librarian Solidarity Night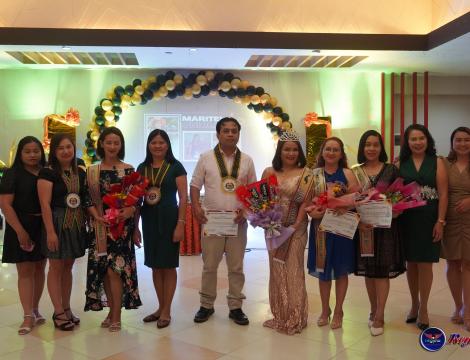 NDMC hosted the celebration of the Librarian Solidarity Night last April 28, 2023, at the Primera Function Hall. The event was attended by 15 different school librarians and was hosted by proficient and jubilant emcees, Mr. Joey Aragon and Mr. John Lloyd Antipolo. 
The event commenced as the librarians walked their cocktail dresses and formal attire with poise and confidence. Furthermore, Fr. Jonathan R. Domingo, OMI, NDMC President, emphasized the significance of reading, as he welcomed the Librarians with a cordial countenance after an astounding performance of NDMC theatro Sinagdayang. 
The highlight of the event was to accord significance and recognition to the diligent work and ardor of each librarian in advocating education, literacy, and knowledge, promoting lifelong learning, and nurturing a fondness for reading and learning. 
Ma'am Irenea P. Mallorca, MSLS, imparted her wisdom by saying, "Being a librarian, I came to comprehend the interests of students and the importance of having a librarian in school." Meanwhile, Sir Arvin M. Tejada, RL, conveyed his journey and the adversities he encountered as a librarian through an inspirational virtual talk. Their discourse motivated the audience to love reading and reminded them that even amidst stress, they can still find solace in doing what they love. 
The solidarity night was a celebration of the librarians' endeavors in creating a favorable learning milieu for the students, faculty, and staff. It was also an opportunity for the librarians to express their gratitude to the individuals who have been instrumental in their journey toward excellence. 
Overall, the program was a success and left a profound sense of contentment to the librarians as they concluded the night by relishing their dinner.
CTTO : Regina Student Publication