Siargaonons Receive Love and Support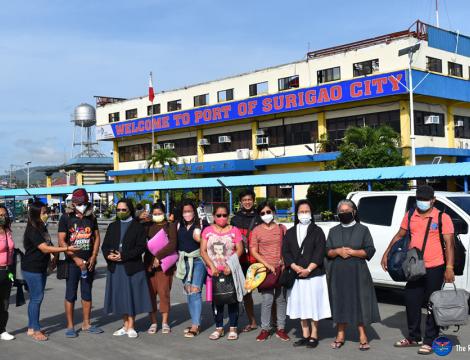 December 16, 2021 will forever be remembered by the Siargaonons. 
The date could have ushered a joyous celebration – Christmas, but typhoon Odette instead devastated the island in an unimaginable and horrible way. 
Everything precious flew out beyond measure – safety, livelihood and dreams. 
The day after the onslaught of typhoon Odette brought out further difficulty – food, electricity and connectivity. 
The world prayed for the fast rehabilitation and restoration of the idyllic island. 
Siargaonons gathered courage, stood strong and worked on from scraps and debris. But the destruction left them in pain and anxiety.
NDMC-CES headed by Mrs. Ellen V. Delosa, MSRED along with the Notre Dame Educational Association President and at the same time the Notre Dame RVM College of Cotabato Principal - Sr. Fe D. Gerodias, RVM journeyed to Siargao for a psychosocial support and relief mission on March 21 and 22. 
The said activity aims to :
- provide venue for self-expression on typhoon Odette experience, 
- check one's wellness and resiliency, 
- gain insights from the experiences of the group 
The activity was also joined by the Guidance and Testing Center Directress – Mrs. Ma. Fe S. Mahinay, MGC. 
The 12-person team eagerly travelled all the way up to give love and support to the select typhoon Odette-hit areas in Siargao.
Arriving in Siargao on March 21, the team was met by Msgr. Prescilo P. Iral, DSC the Parish Priest of Our Lady of Mt. Carmel at Del Carmen, Siargao. Msgr. Iral took care of the team's accommodation and session schedule.
The psychosocial support activity commenced in the afternoon. Students and teachers of Mt. Carmel School of Siargao were the beneficiaries. 
The evening session took place at Our Lady of Mt. Carmel Parish with the children and youth beneficiaries.
The last sessions on March 23 were conducted to teachers, students, chapel members and church workers which simultaneously took place in two different areas in the morning and two areas in the afternoon. 
The psychosocial sessions were conducted in Cancohoy, Lobogon, Bitoon and St. Nicholas School.
The said activity received positive response and heartfelt gratitude from the beneficiaries. The team could only reciprocate with virtual hugs and high fives.
On March 24 was an unforgettable Siargao experience of the team. 
Soaking in the scorching heat, the group had a taste of the sun, sand and surf with the world famous Cloud Nine surfing spot which at the moment is still in need of major repair. 
There was also an island hopping in Dako,Guyam and Naked Islands. 
The team also traversed the Del Carmen Mangrove Forest extending relief mission among the residents of the area affected by the storm surge. 
The feeling of reaching out and extending assistance is beyond happiness – it was a humbling experience seeing people expressing gratitude.
As the teamheaded home the following day, they brought with them the memories of strengthening the resiliency of the Siargaonons and bonding tales of courage and faith.
The Psychosocial Team is composed of:
Mrs. Ellen Delosa – NDMC CES Directress
Sr. Fe Gerodias, RVM – NDEA President/ ND RVM College of Cotabato – Principal  
Mrs. Delma Jaranilla – NDMC CES Assistant
Mrs. Ma. Fe Mahinay – Guidance and Testing Center Directress
Ms. Ma. Ezelle Bayog – Quality Assurance Directress
Mr. Ricardo Quiñones – Regina Publication Moderator
Mr. Lawrence Cacas – NDMC External Affairs Office
Mr. William Candido – JHS Guidance Counselor
Mrs. May Ann Orantes – Grade School Guidance Advocate
Ms. Nicole Matulac – Executive Assistant to the President
Sr. Nemia Lucine, RVM – ND RVM College of Cotabato
Sr. Marieta Caimoy, RVM – ND RVM College of Cotabato
The team is also very grateful for the sponsors of the said activity:
 iSORTS and Mr. Arlie Dela Peña
NDMC College of Education
NDMC College of Criminal Justice Education
NDMC Graduate School
NDMC Grade School
NDMC Junior High School
NDMC Alumni Association
Mrs. Baby Morente
Mrs. Serliza Flauta
Ms. Sylvia Lagman
Ms. Janice Marie Custodio
CTTO : Regina Student Publication