The leap into electronic typesetting, remaining essentially unchanged.
Submitted by

nd-admin

on Fri, 09/22/2017 - 12:59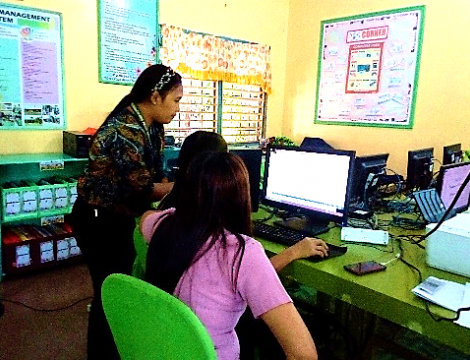 Topic: MS Word Session 2
Participants: San Pedro Elementary School Faculty
Trainers: Engr. Joriz Joy S. Valdez
Jennifer O. Diaz
The College of Information Technology and Engineering continued the seminar-workshop entitled Information and Communications Technology - Teachers Training at San Pedro Elementary School. The workshop started at 2 o'clock in the afternoon and was participated by the faculty of the said school.
At first, the trainers presented the topics to be discussed which were Certificate Making and Invitation Card Designing using MS Word. They emphasized that the application has offered several advanced features that need to be discovered. In addition, no matter how good and advance the computer or software may be, it can only be as good as the person using it. Thus, the faculty got excited as they turned on computers and set their mood with interest.
Engr. Valdez initiated the activity on how to create and design an invitation card as she demonstrated the steps on the screen. Some teachers were still guided as they followed the instructions given. Afterwards, she gave a task on designing their desired type of invitation card and was performed by the faculty.
On the second part of the workshop, Ms. Diaz as one of the trainers showed a sample certificate to the faculty. She said that part of teachers' job is to recognize the achievements of the pupils by rewarding them with medals, trophies, tokens and even a simple certificate. With that, she demonstrated easy steps on making certificate using MS Word as the faculty eagerly
listened. In order for the pupils to appreciate the certificate, the trainer also instructed the faculty to insert pictures on it. She ended the activity by giving a task on creating and printing their self-designed certificates. Lastly, the activities were completed with a picture-taking of the outputs and the participants with the trainers.