Arduino Basics Seminar-Workshop
Submitted by

nd-admin

on Fri, 09/22/2017 - 13:01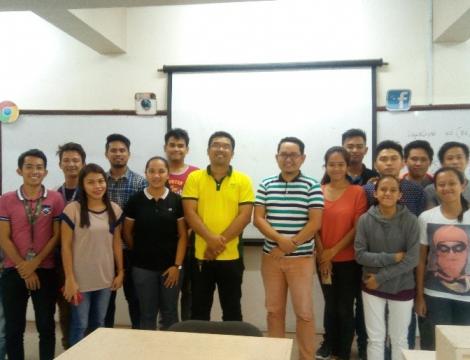 Arduino has been the top trend when it comes to designing. It is an open source computer hardware and software company, project, and user community that designs and manufactures single-board microcontrollers and microcontroller kits for building digital devices and interactive objects that can sense and control objects in the physical world.
Last August 28, 2017 the fifth-year Bachelor of Science in Electronics and Communications Engineering students of the Notre Dame of Midsayap College organized a day-long activity entitled "Arduino Basics Seminar-Workshop", held at Fr. Sullivan Bldg. - Circuit Laboratory. The said seminar was participated by the BSCpE and BSECE graduating students and some of the faculty of the College of Information Technology and Engineering.
Engr. Louie Angelo G. Villegas, ME, was the speaker for the said seminar. The speaker is currently an instructor for Microcontroller and C++ programming at Notre Dame of Tacurong College (NDTC), the same school where he finished his Bachelor's degree in Computer Engineering. Engr. Villegas also had taken up Master of Science in Engineering at Ateneo de Davao University. These made him a qualified speaker for the seminar. The seminar was conducted in order to meet the facilitator's targeted objectives which are as follows: (1) to be able to experiment with Arduino board, (2) to be able to work with programming language in an Arduino environment, (3) to be able to get everyone involved with projects that even beginners can build and lastly, (4) to introduce the basics of Internet of Things (IOT). 
For the whole duration of the seminar, the speaker's expertise to the subject matter was evident. Satisfying answers were given for every question thrown. Participation of the faculty and the student participants was evident too; the eagerness to learn was manifested by the looks of their faces. Everyone was at their 101% in the Arduino Basics Seminar-Workshop.
After the 8-hour seminar-workshop both the students and the faculty were able to experiment the Arduino board and its different modules. They worked together to form basic to advanced programs that could be used in advanced projects. According to the student participants, they never thought learning Arduino together with their dear teachers would be that fun and exciting! One thing is for sure after the seminar, that the participants were able to gain knowledge in an enjoyable way.